Mezzanines
Mezzanines – Work Platforms – VRC's
Make Space Work For You
Wildeck® industrial steel work platforms (mezzanines) are your best solution to fully utilize existing overhead space so you can operate more efficiently and profitably. You can gain valuable working, office, storage, or manufacturing areas at a fraction of the cost of new construction and often with a significant tax depreciation advantage. Wildeck can help you put this space to work fast, with minimal interruption to your working floor area.

Quality Wildeck work platforms meet stringent industry standards and specified national, state, and local codes and are specifically designed to meet your size, load and span requirements. Our expertise and extensive manufacturing capability ensures that you receive more value today and for years to come.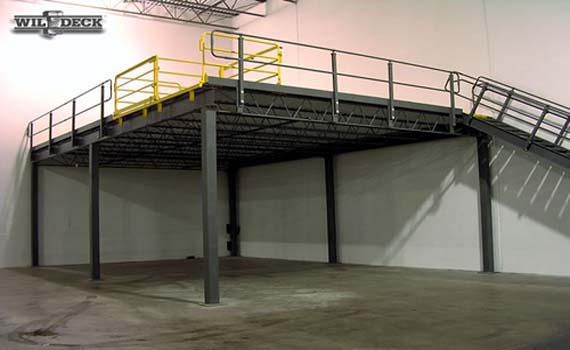 Designed for Heavy Duty Use
Wildeck engineers are structural design specialists with industry and application experience that's second-to-none. Whether you need a standard or custom work platform, it will be designed by the best engineering team in the industry and provide the most cost-effective structure based on your load, size, span, and height requirements.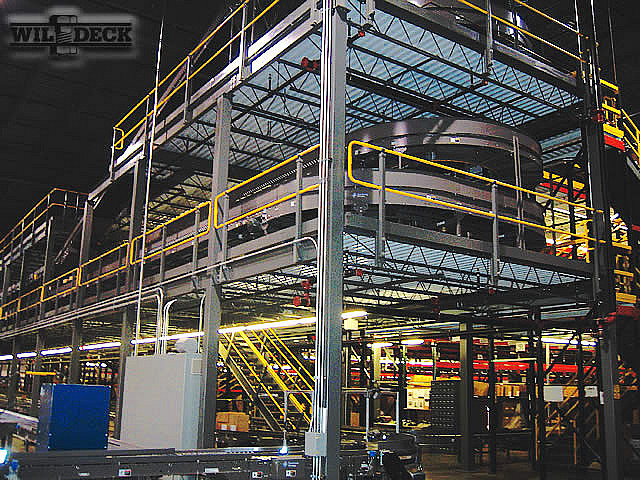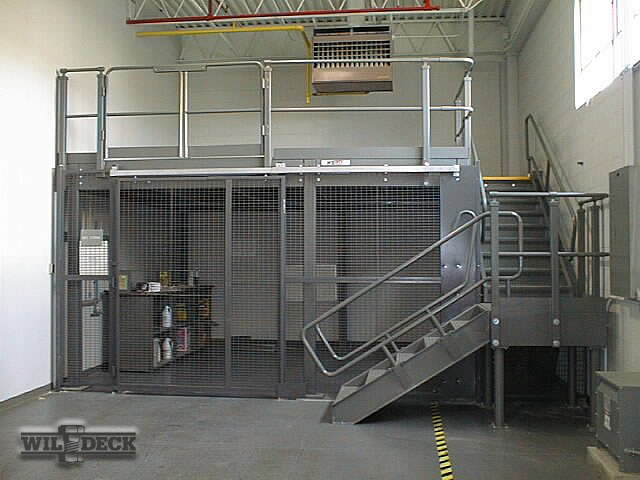 Wildeck Work Platform Advantages:
Quality manufactured to your specification requirements

Designed for easy, fast assembly

Specially engineered steel components quickly bolt together to form a strong and secure unitized structure

Heavy-duty 5″ x 5″ x 3/16″ thick columns are a standard minimum (larger sizes available), along with 12″ x 12″ x 3/4″ thick baseplates, providing rigid support while eliminating obstructing bracing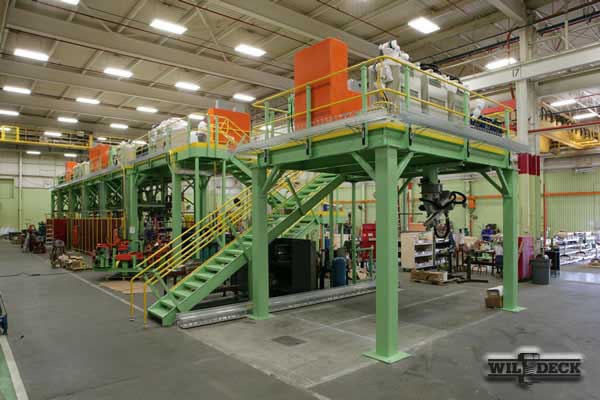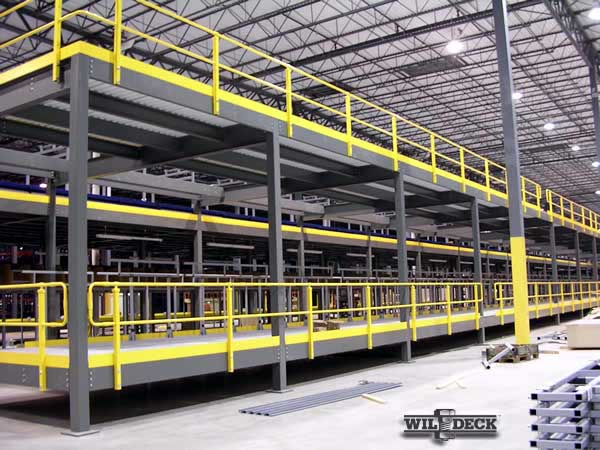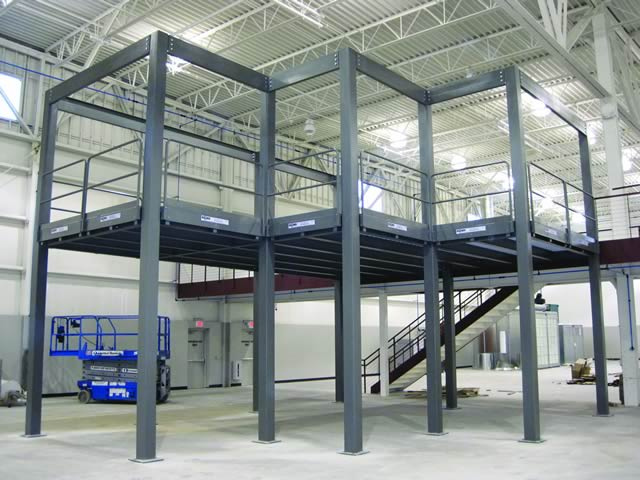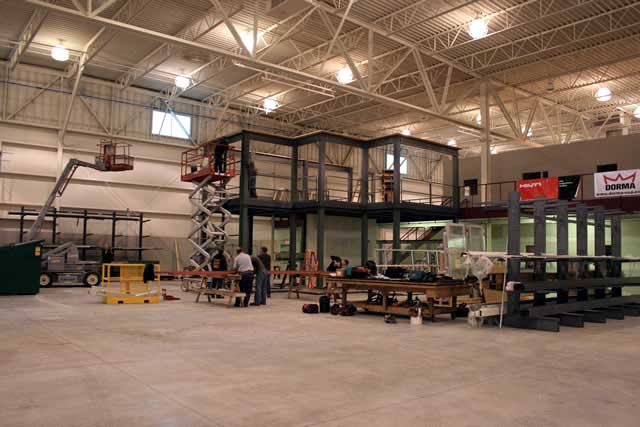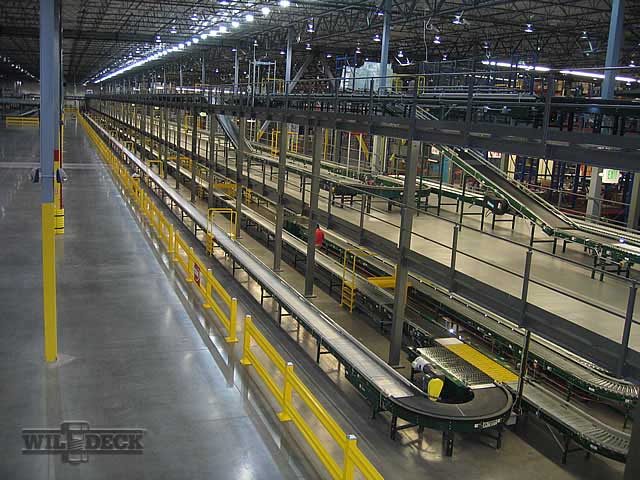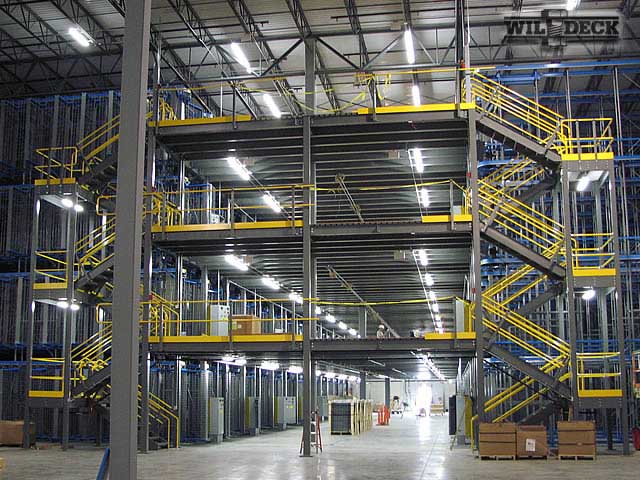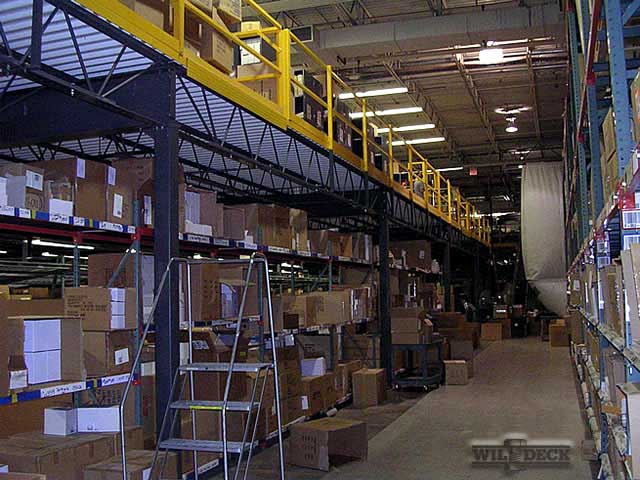 Vertical Reciprocating Conveyors (VRCs)
Wildeck Vertical Reciprocating Conveyors (VRCs) are a cost-effective, safe, and easy way to move materials from one elevation to another. They are ideally suited for the safe and efficient movement of materials to a mezzanine, rack storage system with catwalks, or any new or existing upper floor level.
Vertical Reciprocating Conveyors (VRCs)

Vertical Conveyors

Material Lifts

Freight Lifts

Custom Lifts

Vertical Lifts

Mezzanine Lifts



Modular Lifts

Mechanical Lifts

Hydraulic Lifts

Freight Elevator

Continuous Lifts

Industrial Lifts

Continuous Vertical Conveyor



Safety and Efficiency

Wildeck VRCs are safer than using a forklift truck or manpower to move materials between levels and are easier and less costly to operate and maintain than elevators or forklift trucks. VRCs are classified as a material conveyor and operators do not require OSHA forklift training.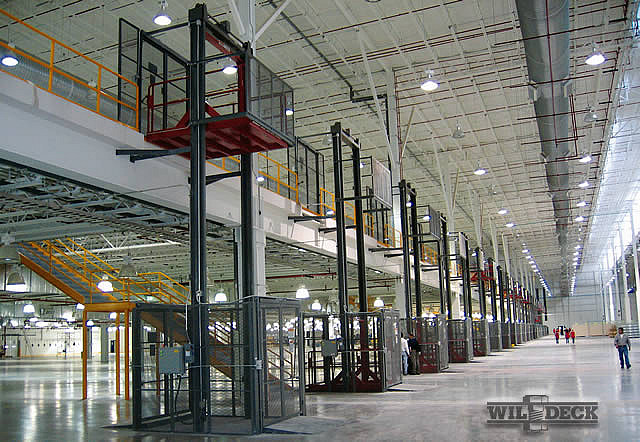 Whatever the Load or Need
Whatever the load may be, moving materials just gets easier with a reliable and easy-to-install Wildeck VRC. They can safely transfer pallet loads, as well as carts and boxes that many not fit on a forklift. Whether you need the simplicity of a hydraulic VRC, or the faster, continuous operation of a mechanical unit; Wildeck's rugged and reliable VRCs can be configured to meet your specific load, height, and speed requirements. Wildeck's staff of experienced mechanical and electrical engineers can customize a VRC for virtually any lifting application or environment.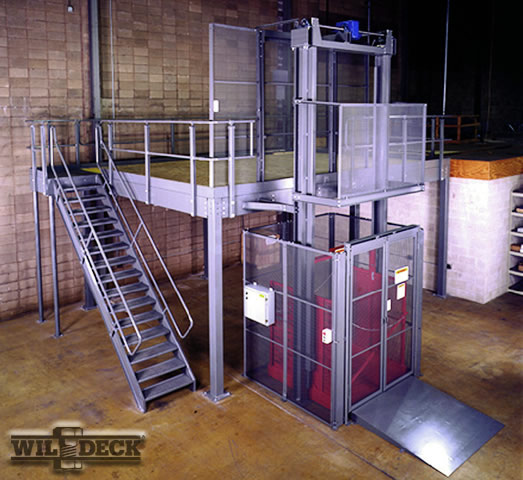 Made in the USA

Wildeck VRCs are manufactured in the USA and meet ANSI / ASME B20.1 safety standards for conveyors and applicable MHIA guidelines.
VRCs are for safe transport of materials only. Riders are not permitted.